According to 2006 estimates by the
Oil and Gas Journal
(
OGJ
), Congo has 1.5 billion barrels of proven oil reserves. The majority of these reserves are located offshore; however, one of the most recent oil discoveries in Congo (2004) is the onshore M'Boundi field, with estimated proven reserves of 250 million barrels. Congo was the sixth largest oil producer in 2005 in sub-Saharan nigeria.html">
Nigeria
,
Angola
,
Sudan
,
Equatorial Guinea
and
Gabon
in total oil production. Congo's crude oil types are typically medium and sweet, with API gravities ranging from 22° - 33°. The country's main export blend, Djeno, has an API gravity of 27.6
° and a sulfur content of 0.23 percent.
Sector Organization
Congo's national oil company, the Société Nationale des Pétroles du Congo (SNPC), regulates all oil production and exploration activities in the country. SNPC develops production sharing agreements (PSAs) with each foreign company that operates in Congo to ensure a constant minimum flow of revenue to the government. Under the PSA contracts, foreign companies carry out exploration and development during an agreed upon period of time, while financing all investment costs which are recovered when production begins. The PSAs also offer tax breaks and a royalty system to operating companies. Because all major operators in Congo have signed PSAs for their respective field developments, approximately one-third of the oil produced goes directly to the government and is sold by SNPC on behalf of the state. Primary foreign operators in Congo include Total (France), Agip (Italy), Perenco (UK) and Maurel and Prom (France).
In March 2005, the Congolese government announced the signing of two offshore exploration and production agreements with Sinopec (China) for the Marine XII and High Sea C blocks. In August 2005, Soco International (75 percent) signed a PSA with SNPC (15 percent) and Africa Oil and Gas Holdings (10 percent) for the offshore Marine XI Block. The block is located in the Lower Congo basin.
Production
Oil production in Congo peaked during 2000 at 280,000 barrels per day (bbl/d). Since that time, oil production has steadily declined to the 2005 average of 227,000 bbl/d. The declining production is largely due to maturing fields and delays in bringing new fields online. However, during the first quarter of 2006, Congo's oil production averaged 245,000 bbl/d, which is expected to further increase as new fields (including the Libondo, Tchibeli, Litanzi, and Yanga-Sud fields) come online. In 2005, Congo's oil consumption averaged 5,000 bbl/d, which is supplied by Congo's small refinery. Total is the leading oil producer in Congo, accounting for approximately 40 percent of oil production, while Agip, as Congo's second largest oil producer, accounts for approximately 25 percent of oil production.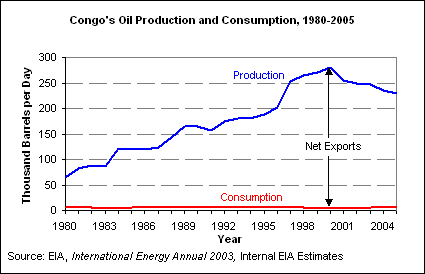 Exports
Congolese oil is exported through the country's main port, Pointe-Noire, which has little spare capacity and is in need of expansion. Most of Congo's crude oil exports are destined for Western Europe (mainly France) and the United States. In 2005, crude exports to the US averaged 31,000 bbl/d; however, this was a decrease from the 2000 average of 52,000 bbl/d. Congo has also sought to increase its crude exports to Asian markets. In 2001, the Congolese government agreed to supply Djeno blend crude to China.
Field Development and Exploration
Total, as the leading oil producer and foreign investor in Congo, plans to double its current production of approximately 91,000 bbl/d, once the Moho and Bilondo oilfields come online in 2008. In 2005, Total received government approval to begin developing the two fields, which will include the construction of 12 subsea wells. Once the fields come online, their estimated production output is a combined 90,000 bbl/d. The fields are located in the Haute Mer permit area and contain probable reserves of 400 million barrels. Oil from the fields will be piped to the Djeno terminal via the Likouala platform. Total operates the project with a 53.5 percent interest and is joined with partners Chevron (31.5 percent) and SNPC (15 percent). Total also plans to develop two N'Kossa satellite fields: N'Kossa Sud and N'Soko. To date, Total has drilled four subsea wells in the N'Kossa Sud field, which is located south of the main N'Kossa field.
The M'Boundi field is considered by Maurel and Prom Corporation (France) to be one of West Africa's biggest onshore oil fields, with estimated proven and probable reserves of 1.3 billion barrels. In 2005, total field production averaged 57,000 bbl/d. Burren Energy (UK) drilled an additional three wells in the M'Boundi field in 2005, which tested at 4,500 bbl/d, 1,600 bbl/d and 3,500 bbl/d respectively. Maurel and Prom (57 percent interest) is operator of the field and is joined with partners Burren Energy (35 percent) and SNPC (8 percent).
In 2005, Heritage Oil (Canada) announced that its first commercial well in the Kouakouala field, Well KKL 401, tested at an initial flow rate of 1,600 bbl/d. Plans include connecting the well to the field's existing production facilities, and the 12,000-bbl/d export pipeline from the field to the Djeno Export Terminal. Kouakouala, which began production in May 2000, has an average output of 1,500 bbl/d at the four wells currently in operation. However, output on the field is expected to increase following the completion of a water injection program.
Also in 2005, Murphy Oil (U.S.) discovered oil in the Azurite Marine No. 1 well in the Block Mer Tres Profonde Sud (MTPS). Murphy drilled two additional wells on the block, which both proved unsuccessful. Murphy, as operator of the block with an 85 percent interest and partner SNPC (15 percent), has plans to explore the block more extensively in the future.
Common Interest Zone
In March 2003, Angola and the Republic of the Congo created the Zone d'Interet Commun (ZIC, Common Interest Zone). The ZIC joint development area, based in Brazzaville, includes portions of Block 14 (Angola), operated by Chevron and the Haute Mer Block (Congo), operated by Total. Congo and Angola share revenues equally from all oil production and exportion occurring in the ZIC. In December 2004, Chevron announced a "significant discovery" in the joint development zone, with the Lianzi-1 exploration well encountering two oil bearing reservoirs, one flowing at a rate of more than 5,000 bbl/d. Chevron is in the process of appraising the Lianzi-1 well's commercial potential.
Refining and Downstream
Although the nameplate capacity of Congo's sole refinery, Congolaise de Raffinage (CORAF), is 21,000 bbl/d, it often operates at less than half capacity, with prolonged periods of inactivity. Despite the Congolese government's intention to privatize the refinery, investors have shown little interest in the facility. The government has since been working to expand and modernize the refinery in an effort to make it more attractive to investors.
For over 25 years, state-owned Hydro-Congo held a monopoly over the sale and distribution of oil products in Congo until it was purchased in 2001 by Total and Shell. In 2002, Chevron bought out Shell and with partners Total, Tacoma/Puma-Energy (UK) and the Congolese government the consortium formed a new company, Société Commune de Logistique Petroliere (SCLOG) to transport oil products throughout the country. Currently, the roads, railways and pipelines that comprise Congo's distribution infrastructure is in need of repair. Approximately 100 service and filling stations are located throughout the country, and they provide bottled liquefied petroleum gas (LPG), petrol, illuminating kerosene and automotive diesel. The majority of service stations are also in need of repair and investment.