According to January 1, 2006 estimates by the
Oil and Gas Journal
(
OGJ
), Côte d'Ivoire has proven crude oil reserves of 100 million barrels. The vast majority of the proven oil reserves are located offshore in shallow marine areas and in deep offshore waters. Crude oil produced in Côte d'Ivoire is primarily medium and sweet with an API of 33
°
.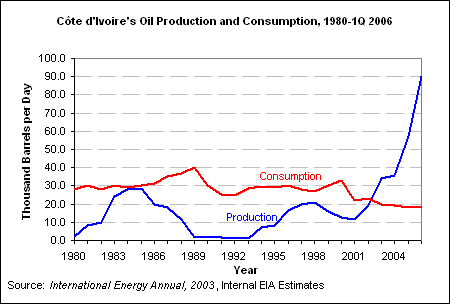 Sector Organization
In 1975, C
ôte d'Ivoire
established the national oil company, Société Nationale d'Operations Pétrolières de la Côte d'Ivoire (Petroci). In 1998, the government re-structured Petroci, creating four new entities: Petroci Holding, a fully state-owned company that is responsible for the state's portfolio management in the oil sector and the three subsidiaries; Petroci Exploration-Production, responsible for upstream hydrocarbon activities; Petroci-Gaz, responsible for the natural gas sector; and Petroci Industries-Services, responsible for all other related services. Up to 49 percent interest in the three subsidiaries is available to private sector investors. Foreign companies involved in C
ôte d'Ivoire's oil sector include Canadian Natural Resources (CNR), Dana Petroleum (U.K.), Devon Energy (U.S.), Oil India,
Pluspetrol
(Argentina), Sinopec (China), and
Vanco
Energy Company (U.S.).
Exploration and Production
Canadian Natural Resources
In 2005, Côte d'Ivoire produced 56,000 barrels per day (bbl/d) of crude oil; however, with CNR's Baobab field now producing, oil production during the first quarter of 2006 averaged 90,000 bbl/d. In August 2005, CNR brought their Baobab oil field onstream, with initial production averaging 48,000 bbl/d. The field is located offshore in Block CI-40 and production on the field is expected to reach 65,000 bbl/d by the end of 2006. CNR is operator of the block with a 57.6 percent interest and is joined with partners Svenska Petroleum Exploration (27.4 percent), Petroci Overseas (10 percent), and Petroci Holding (5 percent). CNR is also operator of Block CI-26 and holds an interest in Block CI-400. The Espoir field, which is located in Block CI-26, had first oil come onstream in 2002. Production at the field, which has a life expectancy of 20 to 25 years, is expected to peak at 35,000 bbl/d of oil. CNR announced that development of the West Espoir field began in mid-2005, with production expected to start in mid-2006. CNR holds 58.7 percent interest in the block and is joined with partners Tullow Oil (21.3 percent) and Petrosi (20 percent).
Devon Energy
Devon Energy Corporation operates the Lion oil field on Block CI-11, with production averaging 20,000 bbl/d of oil. Devon's partners on Block CI-11 include Petroci, Pluspetrol of Argentina, and International Finance Corporation. In addition to Block CI-11, Devon holds interests (ranging from 35 percent to 80 percent) in several other blocks in Côte d'Ivoire including offshore block CI-01, which contains the
Kudu, Eland and Ibex fields; Block CI-02, which contains the Gazelle field and CI-105, Côte d'Ivoire's first deep-water offshore block.
Vanco Energy
Vanco
Energy Company has estimated oil to be located in the San Pedro ridge and other deposits in Block CI-112 off the western coast of
Côte d'Ivoire
.
India
's Oil and Natural Gas Corporation (ONGC) (21.2 percent), Oil
India
(10.4 percent) and
China
's Sinopec (27 percent) signed on to the CI-112 project in December 2004, reducing
Vanco's
stake to 27 percent. In March 2005,
Vanco
drilled the San Pedro 1 well on Block CI-112, but later plugged the well due to a lack of hydrocarbons. In October 2005,
Vanco
signed two production sharing agreements (
PSAs
) with
C
ôte d'Ivoire
for Blocks CI-401 and CI-101. Combined, the two blocks are estimated to contain potential reserves of 345 million barrels of oil.
Other Companies
In February 2006, Yam's Petroleum won three blocks in
C
ôte d'Ivoire
, which include CI-100, CI-110 and CI-111. Irish-based,
Tullow
Oil operates Blocks CI-107 and CI-108 and has performed seismic surveys of the two blocks. The company is also negotiating with
C
ôte d'Ivoire
for Blocks CI-102 and CI-103.
U. K.-based Dana Petroleum has an exploration agreement with
Côte d'Ivoire
for Block CI-100, which is located directly west of acreage held by Dana in
Ghana
.
In 2003, Tullow Oil discovered oil in the Acajou prospect, which is located on license CI-26.
Refining and Downstream
Côte d'Ivoire's refining facilities consist of the 65,200-bbl/d SIR refinery and an adjacent 10,000-bbl/d asphalt plant (Société Multinationale de Bitumes-SMB) in Abidjan. An oil pipeline connects the SIR refinery to the Lion and Panther fields. The refinery also receives crude oil from Nigeria. The state currently owns 47.3 percent of SIR, and expects to retain a 10 percent interest after privatization, due to take place when the political situation in the country improves. Burkina Faso owns a 5.39 percent stake in SIR, and Total, Shell, ExxonMobil and Chevron own the remainder.
A petroleum products depot, adjacent to SIR, stores petroleum products for domestic use as well as for export. The depot, owned by the Société de Gestion des Stocks Petroliers de Côte d'Ivoire (Gestoci) supplies products to Mali, Burkina Faso, Niger and Chad. Gestoci also operates fuel depots in Bouake and Yamoussoukro.
The Ivorian government wants to restructure Gestoci by selling 66 percent of the company to private investors. The government anticipates that refinery expansion coupled with upgrades to Gestoci's Abidjan storage facilities will transform the country into a distribution hub of refined petroleum products on Africa's Atlantic seaboard. A products pipeline from Abidjan to Bouake and a separate line from Abidjan to Takoradi, Ghana are being considered. The line, if constructed, may be extended to Burkina Faso, Guinea and Mali. Several foreign oil companies (and one local firm, PetroIvoire) are involved in the distribution and marketing of refined products in Côte d'Ivoire. Agip, ExxonMobil, Chevron, Total and Shell control over 90 percent of the downstream retail sector.