According to
World Oil
, Equatorial Guinea had total proven oil reserves of 1.77 billion barrels as of January 2005. The majority of these reserves are located in the oil-rich Gulf of Guinea. Since the 1995 discovery of the Zafiro field, Equatorial Guinea's oil production has increased more than tenfold. In 1995, average oil production was 5,000 barrels per day (bbl/d), which increased to an average oil production of 356,000 bbl/d in 2005. In October 2004, Equatorial Guinea requested that oil companies operating in the country cap production at 350,000 bbl/d, due to concerns that oil revenues from increasingly high prices could destabilize the economy.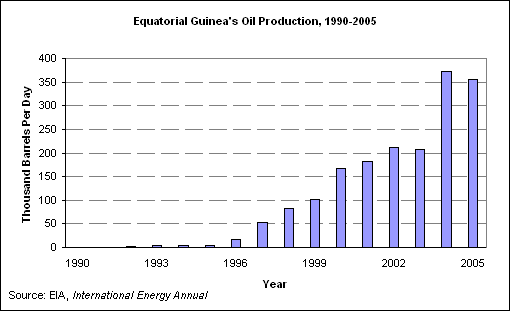 Section Organization
The Ministry of Mines, Industry and Energy is the overall regulatory body for the petroleum industry in Equatorial Guinea. However, to better manage the oil sector, the Equatoguinean government created a national oil company (GEPetrol) that became operational in 2002. GEPetrol's primary focus is to manage the interest stakes of the Equatoguinean government in various production sharing contracts (PSAs) with foreign oil companies. The company can also participate in oil exploration and production activities outside Equatorial Guinea.
Production
Zafiro Field
In 1995, ExxonMobil and Ocean Energy discovered the Zafiro field, which is located northwest of Bioko Island. The field contains estimated recoverable reserves of over 400 million barrels, and is Equatorial Guinea's largest oil producer, with initial output rising from 7,000 bbl/d in 1996 to approximately 270,000 bbl/d in 2005. The Zafiro export blend that is produced from the Zafiro field is low in sulfur content with an API ranging between 34° - 38°. In recent years, ExxonMobil has focused on increasing production from Zafiro by expanding drilling capacity. A new floating production, storage and offloading (FPSO) vessel introduced in 2003 also increased production capability.
Ceiba Field
Ceiba, Equatorial Guinea's second major producing oil field, is located just offshore of Rio Muni in exploration Block G and contains an estimated 300-800 million barrels of oil. The field began production in December 2000 and currently produces around 40,000 bbl/d. The field is operated by Amerada Hess, with partners Tullow Oil and GEPetrol. Adjacent to Ceiba field is the Okume Complex, which Amerada Hess is expanding after having received government approval in 2004. The expansion project includes two tension leg platforms, four fixed platforms and the drilling of 43 wells. Amerada Hess, Tullow Oil and GEPetrol will invest approximately $1.1 billion, with production output expected to reach 60,000 bbl/d. First oil from the project is expected to come online in 2007.
Alba Field
Alba, Equatorial Guinea's third significant field, is located 12 miles north of Bioko Island. It was discovered in 1991 by Water International. Original estimates of combined proven and probable reserves at Alba were around 68 million barrels of oil equivalent (BOE), which includes both oil and natural gas, but recent exploration has increased estimates to almost 1 billion BOE. Unlike the Zafiro or Ceiba fields, exploration and production at Alba has focused on condensates and natural gas. Recent production improvements at Alba resulted in average production of 65,000 bbl/d of condensates. Marathon Oil Corporation serves as operator of Alba field, with a 63 percent interest and is joined with partners Noble Energy (34 percent) and GEPetrol (three percent).
Exploration and Field Development
In June 2006, the Equatoguinean government plans to begin a new licensing round for offshore acreage, including parts of Blocks F, G and B. Asian firms from China and India are especially interested in gaining exploration rights in the upcoming licensing round. In February 2006, the China National Offshore Oil Company (CNOOC) signed a PSA for offshore acreage in Equatoguinean waters. Under the contract, CNOOC and GEPetrol will have the rights to explore the acreage over the next five years. Additional international companies that have interest in the upcoming round include Chevron, U.S.; Vanco Energy, U.S.; Atlas Petroleum International, U.S.; Devon Energy, U.S.; Petronas, Malaysia; Sasol Petroleum, South Africa and Glencore, Switzerland.
In 2004, the Equatoguinean government signed a PSA with a consortium of companies that included Noble Energy (45 percent), GEPetrol (30 percent), and Glencore Exploration (25 percent) for the exploration of Block O. In September 2005, Noble Energy drilled its first exploration well on the Belinda prospect in Block O, which is estimated to contain 75 million BOE. Noble Energy plans to drill one more exploration well on the block.
In January 2006, Petrobras acquired a 50 percent stake in Block L, which is located in the Muni basin. The block's first exploration well is expected to be drilled in 2006. The Brazilian company is joined with partners Chevron (22.5 percent stake and operator), Amerada Hess (12.5 percent), Energy Africa (10 percent) and Sasol (5 percent).
Downstream
Equatorial Guinea's domestic petroleum consumption is estimated at 2,000 bbl/d, primarily in the form of motor fuel. Getotal, jointly owned by Total and the government of Equatorial Guinea, has a monopoly on the distribution of petroleum products, all of which are imported due to a lack of refining capability.
The
Luba oil port
, constructed by Incat Petroleum Services (IPS), became operational in 2002. The Equatoguinean government hopes that offshore oil and gas companies will use the Luba port as their transportation hub. In addition, a new oil port in Malabo is currently being constructed to relieve congestion. Oil companies located on the Island of Bioko are expected to use the port once it is completed. Pils (Netherlands) will operate the port for 15 years, after which the Equatoguinean government will become its operator.