According to the
Oil and Gas Journal
(
OGJ
), Nigeria had 35.9 billion barrels of proven oil reserves as of January 2006. The Nigerian government plans to expand its proven reserves to 40 billion barrels by 2010. The majority of reserves are found along the country's Niger River Delta, with the majority of oil located in approximately 250 small (i.e., less than 50 million barrels each) fields. However, at least 200 other fields contain undisclosed reserves. Approximately 65 percent of Nigerian crude oil production is light (35° API or higher) and sweet (low sulfur content), with blends Bonny Light (37° API) and Forcados (31
° API) being the most exported.
Sector Organization
Nigeria created the Nigerian National Petroleum Corporation (NNPC) in 1977. At that time, the NNPC's primary function was to oversee the regulation of the Nigerian oil industry, with secondary responsibilities for upstream and downstream developments. In 1988, the Nigerian government divided the NNPC into 12 subsidiary companies in order to better manage the country's oil industry. The majority of Nigeria's major oil and gas projects (95 percent) are funded through joint ventures (JVs), with the NNPC as the major shareholder. The largest JV is operated by Shell Petroleum Development Company (SPDC), producing nearly half of Nigeria's crude oil, with average daily output of approximately 1.1 million barrels per day (bbl/d). Additional foreign companies operating in JVs with the NNPC include ExxonMobil, Chevron, ConocoPhillips, Total and Agip. The remaining funding arrangements are comprised of production sharing contracts (PSCs), which are mostly confined to Nigeria's deep offshore development program.
Production
Nigeria is the largest oil producer in Africa and the tenth largest producer of crude oil in the world. In 2005, total Nigerian oil production, including lease condensates, natural gas liquids and refinery gain, averaged 2.6 million bbl/d (of which 2.4 million bbl/d was crude oil). With the help of new projects coming online, the Nigerian government hopes to increase oil production to 3 million bb/d in 2006 and 4 million bbl/d by 2010.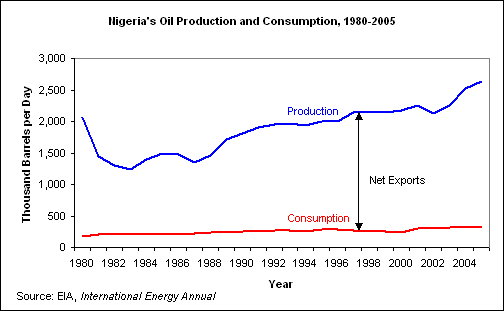 In recent months, Nigeria has experienced increased pipeline vandalism. In October 2005, a pipeline fire in the south-western Delta State of Nigeria resulted in the deaths of about 60 people. This was followed by a December attack, in which armed men in speed boats dynamited Shell's pipeline in the Opobo Channel. In January 2006, a pipeline attack from the Brass Creek fields to the Forcados terminal forced Shell to announce a force majeure on Forcados commitments to end-February. Additional attacks made on the pipeline and the Forcados terminal in February made it necessary for Shell to extend the force majeure beyond the end-February date. Shell estimates that 455,000 bbl/d of its oil production is currently shut-in because of the attacks. A February 2006 attack on the Escravos pipeline, that supplies oil to the Warri refinery, caused the refinery to shutdown. Officials are unsure of how long it will take to repair the damage. Nigeria had re-commissioned the Excravos-Warri pipeline in January 2005 after 18 months of repairing the damage caused by sabotage during the 2003 Niger Delta Crisis. In addition to pipeline vandalism, Nigeria has seen an increase in kidnappings of expatriate oil workers in the Niger Delta region. In January 2006, four foreign employees of Royal Dutch Shell were kidnapped and then held for 19 days before being released on "humanitarian grounds". In February 2006, nine additional oil workers were kidnapped in the Niger Delta region. The Movement for the Emancipation of the Niger Delta (MEND) is taking responsibility for the kidnappings and for blowing up a crude oil pipeline owned and operated by Royal Dutch Shell. As of March 3, 2006, six of the nine hostages were released, but MEND has stipulated numerous conditions that must be met before the remaining three hostages will be released. Chief among the conditions is the release of Ijaw prisoners and the establishment of a United Nations inquiry that would assess the Niger Delta problem.
Despite the recent attacks on Shell's oil facilities, the company's deepwater Bonga field began producing oil at the end 2005. Bonga is estimated to hold recoverable reserves of 600 million barrels of oil. At peak production, the field will produce around 225,000 bbl/d and 150 million cubic feet (MMcf) of natural gas. Oil from the field will be stored in a floating production, storage and offloading (FPSO) unit, with a capacity of 2.0 million barrels.
ExxonMobil produces around 750,000 bbl/d of oil in Nigeria. The company plans to invest $11 billion in the country's oil sector through 2011, with the hope of increasing production to 1.2 million bbl/d. The majority of the increase will occur at the 150,000-bbl/d Erha development, which is located on Block OPL 209. First production is expected in March 2006, with output increasing to 200,000 bbl/d by the end of the year. Oil from Erha will be stored in a FPSO, with a capacity of 2.2 million barrels oil. Very Large Crude Carriers (VLCC), capable of holding up to 300,000 deadweight tons will be used for exporting the oil from the terminal. ExxonMobil also operates the Yoho field, with current full-field output of around 150,000 bbl/d. Yoho contains around 400 million barrels of oil reserves. Yoho will be re-injected with associated natural gas to maintain field pressures and to eliminate natural gas flaring. The $1.2 billion field is located in the shallow waters of Block OML 104. ExxonMobil's Bosi, and Eti/Asasa fields with capacities of 120,000 bbl/d, and 25,000 bbl/d, respectively, are scheduled to come online between 2006 and 2007.
Total, Chevron, Agip, and ConocoPhillips are also involved in the Nigerian oil sector. Output at Total's Amenam field reached 120,000 bbl/d in January 2005. The Amenam field contains reserves of around one billion barrels of oil equivalent. Total's Akpo field is expected to come online in 2008, with estimated output capacity of 225,000 bbl/d. In 2004, Chevron produced an average of 366,000 bbl/d of oil, while Agip produced 255,000 bbl/d of oil.
In past years, the amount of oil that Nigeria produced has led to disputes with the Organization of Petroleum Exporting Countries (OPEC), as Nigeria frequently exceeded its production quotas. The multinationals see Nigeria's OPEC production quota as a major hindrance to increased production at several deepwater fields. Currently, Nigeria's OPEC quota for crude production is 2.3 million bbl/d. In January 2006, Nigerian Minister of State for Petroleum, Edmund Daukoru, became the new OPEC president. Industry analysts have indicated that he will be faced with the double challenge of guaranteeing cohesion among OPEC members, while allowing Nigeria to increase its oil production.
Exports
The majority of Nigerian crude exports go to markets in the United States and Western Europe, with Asia and Latin America becoming increasingly important destinations. In 2005, Nigerian petroleum exports to the United States averaged 1.15 million bbl/d. Nigeria has six export terminals including Forcados and Bonny (operated by Shell); Escravos and Pennington (Chevron); Qua Iboe (ExxonMobil) and Brass (Agip).
Exploration and Field Development
Deepwater projects may represent the future of Nigerian petroleum by allowing multinational operators to avoid security risks inherent to the unstable Niger Delta region. In March 2005, a new licensing round began that offered a total of 77 deepwater and inland blocks. As of January 2006, 44 of the 77 blocks were awarded, but only 18 companies had paid their signature bonuses in full. In the past, the Nigerian government has taken underdeveloped blocks from multinational companies due to delays in their development. However, in one case, the Nigerian government returned four of 13 blocks taken from Royal Dutch Shell, while several of the remaining blocks were included in the March 2005 round. Nigeria's Department of Petroleum Resources (DPR), a licensing regulator agency, has promised that a new licensing round will be held in the third quarter of 2006.
In October 2004, Chevron announced that it would invest $2.5 billion to develop the Agbami field, which is scheduled to come online in late 2007. In December 2004, NNPC concluded negotiations on a $4 billion contract for development of the Agbami field. The field contains 1 billion barrels of recoverable hydrocarbons, and is located 70 miles from Nigeria's coast. The majority of Agbami lies in OPL 216, while one-third of it lies in the adjacent Block OPL 217. In February 2005, NNPC awarded Chevron a $1.1 billion contract for the construction of a FPSO for the field, which will be undertaken by Daewoo Shipping and Maritime Engineering (South Korea). The FPSO is expected to export up to 250,000 bbl/d of oil and 450 million cubic feet per day (Mmcf/d) of natural gas.
In October 2004, Total announced the discovery of a major oil deposit in deepwater block OPL 222, followed by a January 2005 discovery at the deepwater Usan field. The fifth successful appraisal well drilled in the field, Usan-6, had an initial flow rate of 5,800 bbl/d. Commercial production on the field is scheduled to begin in 2010, with initial output of 150,000 bbl/d. Block 222 is operated by Total (20 percent), in partnership with Chevron (30 percent), ExxonMobil (30 percent), and Nexen Petroleum (20 percent).
Chinese firms are also becoming increasingly involved in the Nigerian oil sector. In December 2004, Sinopec and NNPC signed an agreement to develop the Niger Delta's OML 64 and 66. Since the signing of the agreement, five exploration wells have been drilled in OML 64, with one discovery of hydrocarbons. In Block OML 66, twelve wells have encountered hydrocarbons. In July 2005, China and Nigeria reached a trade agreement in which Nigeria will supply China with 30,000 bbl/d of crude oil over the next five years.
Along with the increased foreign investment in Nigeria's oil sector, the Nigerian government has been working to promote local investment in the oil industry. Nigeria's Marginal Field Development Program (MFDP) provides tax breaks and government incentives to encourage local involvement in the oil sector. In November 2004, 16 local companies acquired marginal oil fields from SPDC under the MFDP. The fields are estimated to hold 150-200 million barrels of oil. First oil from the fields has yet to come online. Nigeria also has plans to increase local ownership in deep offshore projects during 2006. The Nigerian government has called for the current 15 percent local ownership to be increased to 45 percent during 2006 and to 70 percent by 2010.
Joint Development Zone
The
Joint Development Zone (JDZ)
, shared by Nigeria and neighboring Sao Tome and Principe (STP), contains 23 exploration blocks and could potentially hold up to 14 billion barrels of oil reserves. Nigeria and Sao Tome have agreed to split revenues from the blocks on a 60:40 basis, respectively. Block One is currently the only block in the JDZ undergoing development. The block is controlled by Chevron (51 percent), with partners ExxonMobil (40 percent) and Equity Energy Resources (9 percent). If oil is located, Chevron plans to bring it onstream by 2010. Blocks Two through Six were also awarded, but due to disagreements between Sao Tome and Nigeria, approval of the PSAs has yet to occur. Meanwhile, several independent U.S. based companies that were awarded shares in the blocks have relinquished their awards. Pioneer Natural Resources stated a failure to agree to specific terms of operation on Block Two as the reason for its withdrawal from the project. Pioneer's withdrawal has opened the door for China's oil and gas company, Sinopec, to invest in the JDZ. In February 2006, the Joint Ministerial Council (JMC) asked the Joint Development Authority (JDZ) to approve the remaining PSAs for the five blocks.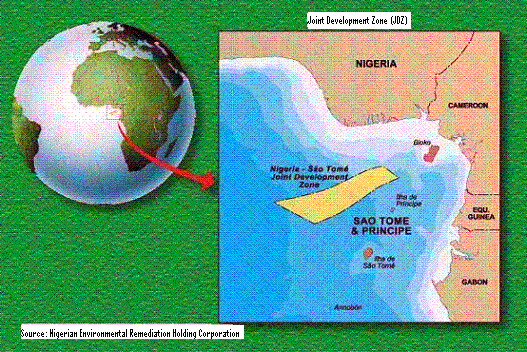 Development is also occurring in the waters surrounding the JDZ. In March 2005, Spinnaker Exploration (U.S.) purchased a 12.5 percent interest in Block OPL 256 from Ocean Energy, a subsidiary of Devon Energy. Drilling has commenced on the Tari 1 exploratory well at Block OPL 256, which is located off the Nigerian coast near the JDZ. Three wells are planned for the block.
Refining and Downstream
Nigeria's refining capacity is currently insufficient to meet domestic demand, forcing the country to import petroleum products. Nigeria's state-held refineries (Port Harcourt I and II, Warri, and Kaduna) have a combined nameplate capacity of 438,750 bbl/d, but problems including sabotage, fire, poor management and a lack of regular maintenance contribute to the current operating capacity of around 214,000 bbl/d. The Nigerian government is granting permits to build several independently-owned refineries in Nigeria. Sapele Petroleum Limited is waiting for final approval to construct a $105-million, 120,000 bbl/d oil refinery in Delta State. The refinery is one of the more probable to be built and could save Nigeria as much as $2 billion in costs for refined petroleum imports.
Nigeria is trying to privatize state entities by selling NNPC's four oil refineries, petrochemicals plants, and its Pipelines and Products Marketing Company (PPMC). However, multinational oil companies have shown little interest in investing in refinery privatization. The Nigerian government recently opened negotiations with Libyan, Indian, and Chinese investors. In July 2004, the Group Managing Director of NNPC announced that a two-year program was underway with Accenture and Shell Global Solutions to reengineer PPMC to make it competitive in global markets. Considerable opposition to the proposed measures have been voiced by the National Union of Petroleum and Natural Gas Workers (NUPENG) and the Petroleum and Natural Gas Senior Staff Association of Nigeria (PENGASSAN), which fear that job losses and higher product prices will result from the privatizations. In February 2005, Majestic Oil (Sierra Leone) bought the Nigerian government's 48.4 percent stake in the West Africa Oil Refinery in Freetown. Majestic also acquired Unipetrol Nig LPC's 24.2 percent share, when the company failed to invest in the rehabilitation of the facility.