According to the
Oil and Gas Journal
(
OGJ
), South Africa had proven oil reserves of 15.7 million barrels as of January 2006. The majority of production in the oil industry comes from synthetic fuels (175,000 barrels per day, bbl/d), while actual crude production in 2005 was only 34,000 bbl/d. Over 50 percent of total oil consumed (496,000 bbl/d) in South Africa comes from imports, the majority of which are from the Middle East, with
Saudi Arabia
and
Iran
as the country's chief suppliers. Nigeria is now the third largest supplier of imported oil to South Africa.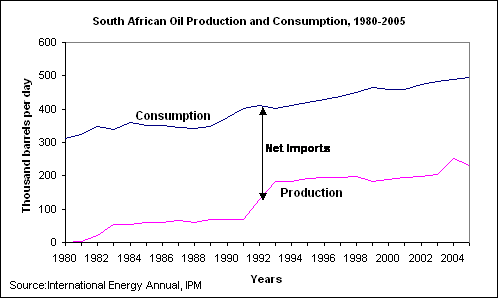 In 2003, natural gas production in South Africa was 83 billion cubic feet (Bcf), all of which was consumed domestically. The Petroleum Oil and Gas Corporation of South Africa (PetroSA) plans to invest money in the development and exploration of offshore gas fields. PetroSA hopes to locate natural gas feedstock to keep its gas-to-liquids (GTL) Mossel Bay plant running through 2018.
Sector Organization
In 2005, South Africa launched the National Energy Regulator of South Africa (NERSA). NERSA regulates policy over the entire energy industry in South Africa and will be responsible for implementing South Africa's energy plan. South Africa also has a national oil and natural gas company, the Petroleum Oil and Gas Corporation of South Africa (PetroSA). PetroSA is responsible for managing and promoting the licensing of oil and gas exploration in the country. This includes both onshore and offshore exploration. In addition to PetroSA, the South African government's subsidiary, iGas, is development overseer of the natural gas industry, which includes liquefied natural gas (LNG) and liquefied petroleum gas (LPG).
The first privatization in South Africa's gas distribution sector was completed in August 2000. A consortium led by U.S.-based Cinergy and Egoli Empowerment Holdings, purchased Johannesburg's Metro Gas Company. Renamed Egoli Gas, the consortium announced in September 2000 the signing of a 20-year contract with Sasol Gas. The contract will provide the Johannesburg area with 2.5 million cubic feet of gas per year and an option to increase the supply up to seven million cubic feet of gas per year. Egoli Gas plans to increase its customer base to 100,000 customers by 2010.
In December 2001, oil companies including BP, Caltex, Shell and Total signed the
Oil Industry Charter for Transformation
, a BEE mandate, which aims to have black-controlled companies owning 25 percent of the oil sector by 2014. Similarly, the government aims to reserve 10 percent of new natural gas exploration licenses for BEE companies.
In December 2003, South Africa's Competition Commission approved the proposed merger of Sasol and Exel Petroleum (Exel), a black-owned company. As a result, Sasol gained control of Exel's network of 189 service stations throughout South Africa. In February 2004, Sasol announced plans to merge with Engen, a subsidiary of Malaysia's Petronas. Each company would own a 35 percent stake in the new company, while 25 percent would be divided between each member's BEE partners. As of December 2005, the Competition Commission had not given its final decision on the merger, however, the Competition Commission implied that the merger was not in the best interest of the country.
On January 1, 2006 South Africa switched from using leaded fuels to unleaded fuels in motorized vehicles. Prior to the fuel switch, an estimated 60 percent of South African vehicles were leaded fuel users. The South African government, under the clean fuels policy, paid to have older vehicles adapted for unleaded fuel. In addition, diesel fuel used in South Africa after January 1, 2006 will have an ultra-low sulfur content, which will increase its cost by $0.11 per gallon.
Production
PetroSA and Energy Africa began South Africa's first oil production at the Oribi oil field in 1997 using a floating, production, storage and offloading vessel (FPSO). The Oryx oil field, which lies 3.7 miles from the Oribi field, began production in May 2000. Combined, the two fields produce around 16,000 bbl/d, although, PetroSA has indicated that both fields are in decline.
Production at the Sable Field, located approximately 60 miles off the southern coast, commenced in August 2003. The project, a partnership between PetroSA and Pioneer, has six subsea wells connected to a FPSO with the capacity to process 60,000 bbl/d of oil, re-inject 80 million cubic feet per day (Mmcf/d) of natural gas and recover natural gas liquids. Current production at the Sable field is around 23,000 bbl/d. Associated gas, which was re-injected to improve liquids recovery, may also be recovered as part of a planned natural gas development project. PetroSA, who currently owns a 60 percent interest in Sable, is expected to sell a 9 percent stake in the field to BEE companies.
The production platform at the offshore FA natural gas field, from which nine production wells have been drilled, is one of the largest structures ever built in South Africa. Four production wells on the FAR and FAH satellite gas fields are linked to the platform by subsea systems. Production wells on the EM and EBF gas fields are connected to the FA platform by a 32-mile pipeline designed for the future tie-in of other gas fields.
In September 2003, the South African National Assembly passed the
Petroleum Pipelines Bill
, which plans for privatization of oil and gas pipelines and guarantees the future oil supply of the Natref refinery. Similarly, the
Petroleum Products Amendment Bill
seeks to improve transparency in the sector, govern fuel specifications, and allocate retail sites.
Exploration
The most prolific of South Africa's exploration blocks has been Block 9 in the Bredasdorp Basin. PetroSA has made several discoveries on the block, including the Oribi (see above), Oryx and Sable fields. PetroSA and Pioneer Natural Resources also discovered Boomslang, which tested at a combined rate of 3,120 bbl/d of oil, 26 million cubic feet per day (Mmcf/d) of natural gas, and 300 bbl/d of condensate. In 1991, the two companies discovered EBB, which originally tested at 46 Mmcf/d of natural gas and 1,830 bbl/d of condensate. Both PetroSA and Pioneer plan to drill additional appraisal wells in Boomslang and EBB fields.
There is an active exploration program in Block 11A, which lies east of Block 9. PetroSA's Ga-A find, discovered in 1969, had an initial flow rate of 24 Mmcf/d. The Ga-Q field was discovered in 1983 and had an initial test flow rate of 11.4 Mmcf/d. Additional appraisal drilling is planned on Block 11A as well.
In March 2000, an offshore natural gas discovery was made in the Ibhubezi field in Block 2A. US-based companies Forest Oil Corporation (Forest) and Anschutz, along with BEE Company Mvelaphanda, are exploring in Block 2A, which has estimated reserves of 15 Tcf. In August 2003, PetroSA purchased a 30 percent share in the Ibhubezi Gas Field project. PetroSA hopes that Ibhubezi gas, along with gas from Namibia and Mozambique, can be used at its 45,000 bbl/d Mossel Bay GTL plant, where reserves may be depleted by 2007.
In January 2002, Petroleum Geo-Services (PGS) and Petroleum Agency SA (PASA) announced a joint cooperation agreement to promote deepwater exploration acreage in Block 2B and acreage west of Blocks 5 and 6. In December 2002, a consortium of Jebco Seismic, PetroSA, and Global Exploration Services identified a petroleum system off the east coast of South Africa in the Tugela Cone.
Although Shell withdrew from the project in August 2002, negotiations continue between the South African government and operators of Namibia's offshore Kudu gas field (1.3 Tcf). ChevronTexaco replaced Shell, but withdrew from the project in November 2003. Although Energy Africa assumed full interest in the project and planned to pursue its development unilaterally, it did not have adequate funding to do so and sold a 10 percent stake to Namcor, the Namibian national oil company (NOC). Initial plans call for gas to be piped from the Kudu field to Cape Town, where it will supply fuel for a power station. PetroSA has expressed interest in becoming a partner on the Kudu field, and the government wants to extend the pipeline to the PetroSA synfuel facilities at Mossel Bay.
The South African government has provided $213 million to fund exploration in fields off Mossel Bay. Any recoverable natural gas reserves will be developed with the intent of extending the lifespan of the Mossel Bay GTL project.
Refining and Downstream
South Africa has the second largest refining capacity in Africa (504,547 bbl/d), surpassed only by
Egypt
. Its refined products are both sold in the local market and exported, primarily within Southern Africa, but also into both the Indian and Atlantic basin markets. Major refineries include Sapref (172,000 bbl/d) and Enref (135,000 bbl/d) in Durban, Calref (110,000 bbl/d) in Cape Town, and Natref (87,547 bbl/d) at Sasolburg.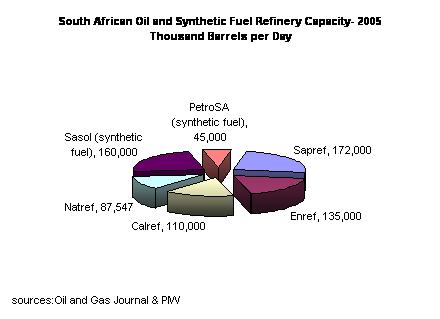 Multinational companies, including BP, Shell, Caltex (ChevronTexaco), Engen, and Total, are major participants in South Africa's downstream petroleum markets. Several domestic firms are also involved, including black-owned firms Naledi Petroleum and Afric Oil. Worldwide Africa Investment Holdings (WAIH), the largest black-owned oil group, owns 55 percent of Afric Oil, 51 percent of South African Zenex, and 20 percent of Engen.
Shell and BP plan to invest $100 million in the Sapref facility, South Africa's largest refinery. The investment, intended primarily to reduce emissions, will occur over the next five years. In accordance with BEE mandates, Shell is expected to sell a 25 percent stake in the Sapref refinery to a black-owned partner. In 2002, Engen announced a $70 million investment in its Enref facility to reduce pollution.
In 2005, Drako Oil and Energy announced the proposed construction of a 300,000 bbl/d refinery at Richards Bay in the KwaZulu-Natal province. If the refinery is built, it would be the largest in the country. The facility would have a 6.2 million barrel storage capacity and would be linked to the Petronet pipeline system. Crude oil for the facility would most likely come from Algeria or the UAE.