According to the
Oil and Gas Journal
(
OGJ
), Sudan contained proven conventional reserves of 563 million barrels as of January 2006. This is more than twice the proven 262 million barrels estimated in 2001. The Sudanese Energy Ministry estimates total oil reserves at five billion barrels. Due to civil conflict, oil exploration has been mostly limited to the central and south-central regions of the country. It is estimated that vast potential reserves are held in northwest Sudan, the Blue Nile Basin, and the Red Sea area in eastern Sudan.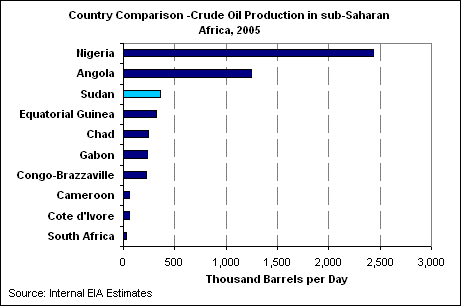 Oil production has risen steadily since the July 1999 completion of an export pipeline that runs from central Sudan to the Port of Bashair. In 2005, crude oil production averaged 363,000 barrels per day (bbl/d), up from 343,000 bbl/d during 2004. The Sudanese government has set a production target of 600,000 bbl/d by the end of 2006. This target will likely be achieved if new projects come online and proposed output increases are realized. In 2005, Sudanese oil consumption averaged 82,000 bbl/d. This was a 15 percent increase over the 70,000 bbl/d consumed during 2004.
Sector Organization
The Sudan National Petroleum Corporation (Sudapet) is active in Sudan's oil exploration and production. However, due to its limited technical and financial resources, the company takes a minor role in large upstream development projects. Sudapet also develops joint ventures with foreign companies in downstream projects. Foreign companies involved in Sudan's oil sector are primarily from Asia. They are led by the China National Petroleum Corporation (CNPC), India's Oil and Natural Gas Corporation (ONGC) and Malaysia's Petronas.
A new National Petroleum Commission is being formed in Sudan. The function of the commission will be to allocate new oil contracts, and to ensure an equal sharing of oil revenues between Khartoum and the Southern Sudan or GOSS. President Bashir will co-chair the commission with Vice-President Salva Kiir, who also heads the GOSS.
Exploration and Production
Exploration and development of Sudan's oil resources has been highly controversial. International human rights organizations have accused the Sudanese government of financing human rights abuses with oil revenues, including the mass displacement of civilians near the oil fields. Factional fighting in the South and rebel attacks on oil infrastructure have kept oil production and exploration from reaching full potential to date. In October 2004, for example, the Sudanese government prevented a militia attempt to sabotage the country's main oil export pipeline. However, the recent peace agreement between the government and the SPLA will likely lead to substantial investment in both production facilities and new exploration initiatives in the country. In January 2005, after the official signing of the CPA, Total, Marathon Oil Corporation, and the Kuwait Foreign Petroleum Company renewed their exploration rights in southern Sudan.
Greater Nile Oil Project
In 1996, Canadian independent Arakis Energy (Arakis) began development of the Heglig and Unity fields (Blocks 1, 2, and 4), estimated to contain recoverable reserves of 600 million to 1.2 billion barrels. Because the fields were not located near the Red Sea coast, Arakis entered into a consortium with the Greater Nile Petroleum Operating Company (GNPOC) to raise investment for a 994-mile pipeline from the fields to the Suakim oil terminal near Port Sudan. In September 1999, the first cargo of "Nile Blend" crude departed the export terminal. Although the pipeline was originally built to move 150,000 bbl/d, its current capacity is 450,000 bbl/d. Production from GNPOC's 10 fields is estimated at a combined average of 285,000 bbl/d. Currently GNPOC is looking to develop additional fields in Block 4. In 2002, Canada's Talisman Energy sold its 25 percent interest in GNPOC to India's ONGC in response to concerns over human rights abuses. Currently, GNPOC is operated by CNPC (40 percent), with partners Petronas (30 percent), ONGC (25 percent) and Sudapet (5 percent).
Blocks 3 and 7
In June 2004, Petrodar, a consortium of CNPC (41 percent), Petronas (40 percent), Sudapet (8 percent), Gulf Oil Petroleum (6 percent), and the Al-Thani Corporation (5 percent) awarded a $239 million contract to Malaysia's Ranhill International and Sudan's Petroneeds Services International for development work on Blocks 3 and 7. The blocks contain the Adar Yeil and Tale fields, with estimated recoverable reserves of 460 million barrels and an expected output of 120,000 bbl/d. Capacity is expected to increase to 300,000 bbl/d by late 2006. A pipeline linking the two fields to Port Sudan came online in November 2005. The project also includes a 300,000 bbl/d central processing facility at Al-Jabalayan and production facilities at Palogue.
Block 5A
In April 2005, the Sudanese government signed an agreement with the White Nile Petroleum Company for the development of the Thar Jath and Mala fields on Block 5A. The company has plans to drill 45 wells, which are due to come online in March 2006. Initial production capacity on the block is estimated at 80,000 bbl/d, which will flow through a 110 mile pipeline to Port Sudan. Total cost of the project is estimated at $400 million. White Nile Petroleum Company is a consortium of companies, which include Petronas (68 percent), ONGC (24 percent) and Sudapet (7 percent).
Block 6
In November 2004, CNPC's Fula field on Block 6 came online at a rate of 10,000 bbl/d. Currently, output on the block is at 40,000 bbl/d, but is expected to eventually reach 80,000 bbl/d. CNPC has constructed a pipeline that links the Fula field to the Khartoum refinery.
Refining and Downstream
According to
OGJ
, Sudan's three refineries had total refining capacity of 121,700 bbl/d in 2005. The two largest refineries, El Gily and Khartoum, both had capacities of 50,000 bbl/d. The Sudanese government has plans to increase capacity at the Khartoum refinery to 100,000 bbl/d. In July 2004, CNPC completed the first-stage expansion of the Khartoum refinery. The second-stage expansion of the refinery is currently underway, but a completion date has yet to be announced.
The Port Sudan facility, located near the Red Sea, is Sudan's smallest refinery, with a capacity of 21,700 bbl/d. In September 2005, a contract was awarded to Petronas to build a new refinery at Port Sudan. The refinery will be designed to process the "Dar Blend" (crude with high-acid content) found in Sudan's Melut basin, and it will have a capacity of 100,000 bbl/d. The refinery is expected to be operational in 2009. Petronas is joined by the Sudanese Ministry of Energy and Mining, with both entities holding 50 percent shares in the project.
In October 2004, Malaysian Peremba began construction of a $232 million marine export terminal for the Melut Basin Oil Development Project. The terminal will have a capacity of 2 million bbl/d. Malaysia's Nam Fatt and Italy's Bentinin have been contracted to build six pumping facilities in the basin by April 2006. Construction on an 870-mile pipeline linking the Melut Basin to the export terminal near Port Sudan was divided into four parts, with separate consortias to undertake each of the segments. In July 2004, a consortium led by MMC Corporation was contracted to build a 304-mile portion, and in August 2004, Russian Stroitransgas began construction on a 227-mile section. The terminal is expected to begin exporting oil by August 2006.